ANTHEM OPPORTUNITY WAY PARK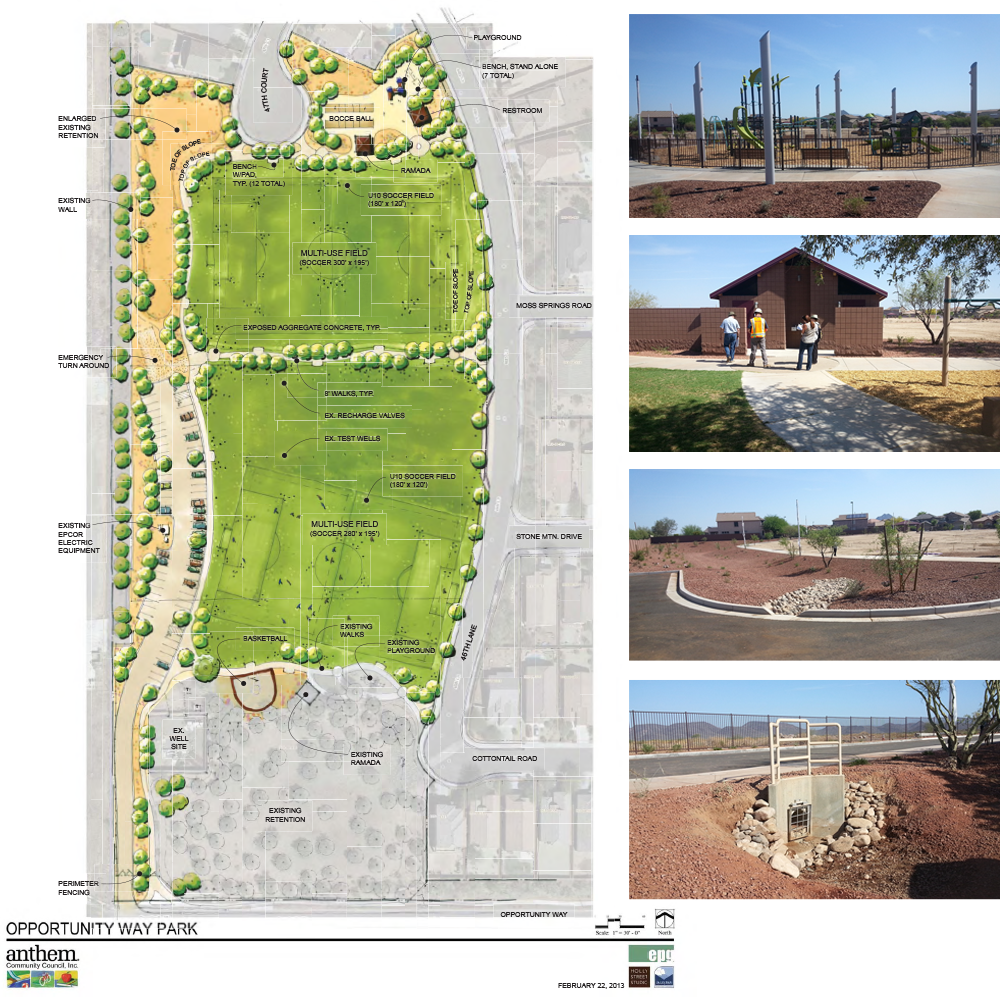 OWNER | ANTHEM COMMUNITY COUNCIL / CLIENT | EPG
ROLE | LEAD DESIGN CONSULTANT
Opportunity Way Park is an expanded park which is partially built over an EPCOR active recharge facility. It's the first park of its kind in the country! The park has two multi-use soccer fields and other amenities on approximately 9.6 acres of land. The southern 2.5 acres are comprised of the existing park, retention pond and well site, with the remaining 7.1 acres available for the park expansion. The program for Opportunity Way Park includes additional multi-use sports fields, playground equipment, ramadas, leisure game space, off-street parking, and a restroom building.
CK assisted EPG with general plans and provided data reconnaissance, topographical survey, base mapping, and civil design services. CK completed Paving Plans, Grading Plans, Storm Water Management Plans, Sanitary Sewer Plans with profiles, Water Line Plans, Lighting and Electrical Plans, Preliminary Drainage Report, and review and approval of replat. CK also assisted with outline specifications in Construction Specifications Institute (CSI) format and Maricopa Association of Governments (MAG) specification references for civil related components.
The park expansion project was completed in 2 phases:
Phase 1: Fill the infiltration storage basin, mass grade the northwest retention basin, multi-use fields and playground / leisure game/restroom area, parking lot, and entrance drive.
Phase 2: Develop the multi-use fields, parking lot and entrance drive, and site amenities.
YOU MAY ALSO LIKE