CENTRAL MESA LIGHT RAIL EXTENSION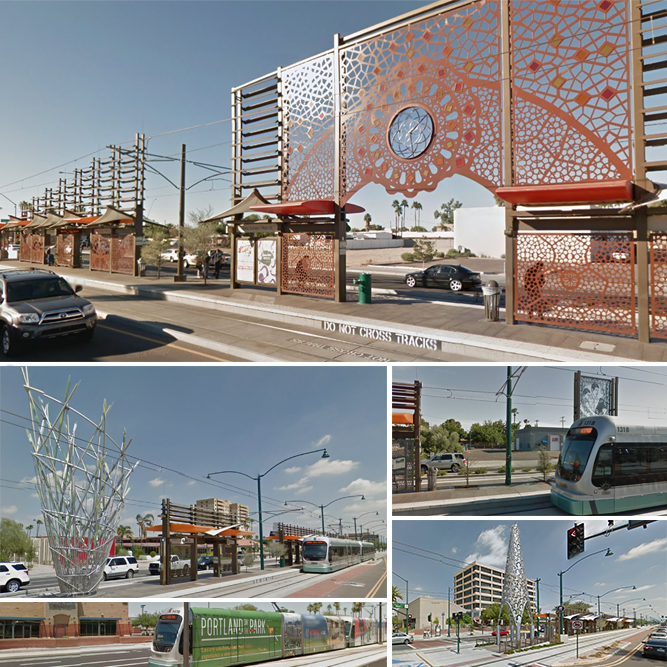 OWNER | VALLEY METRO / CLIENT | PARSONS
ROLE | LEAD TRAFFIC ENGINEER
The Central Mesa Light Rail Extension project continues the light rail line along Main Street in the City of Mesa, through the City Downtown terminating just east of Mesa Drive. The project is three (3) miles long and is the first design build project for METRO. The project design build team, Valley Transit Constructors is comprised of a Kiewit/Mass Joint Venture team with the design build team led by Parsons Transportation Group.
The CK's scope of work included preparing all signing and striping improvement plans along the light rail roadway corridor. Given the unique nature of this project, CK worked with various stakeholders including METRO and the City of Mesa to establish a preferred traffic and way finding signage requirements for the project. The emphasis was to safely and efficiently traverse vehicular and pedestrian traffic through the area.
The signage plan for the project was completed using SignCAD and AutoCAD. Specialized signage needs such as the blank-outs were customized based on guidelines stipulated in the "Traffic Control for Highway-Light Rail Transit Grade Crossing Section" of the MUTCD. Chapter 10 of the MUTCD was used for determining signing and striping for regulating vehicle and pedestrian traffic in the LRT guideway.
Awards
Parsons Wins ACEC AZ Grand Prize in Transportation for Central Mesa Light Rail Extension Project
Valley Metro Receives Innovative Transportation Solutions Award