ECHO CANYON AREA TRAILHEAD IMPROV.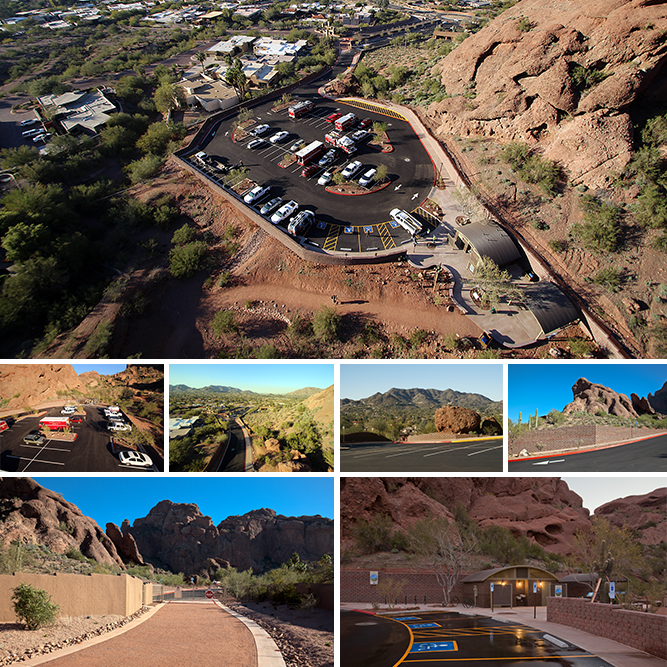 OWNER/CLIENT | CITY OF PHOENIX
ROLE | PRIME CONSULTANT
This project demonstrates CK's proficiency in conducting localized improvements to increase capacity, enhance safety, or add new features such as bicycle and pedestrian facilities to an existing roadway with complicated constraints. Additionally, it demonstrates CK's expertise and familiarity with the practical application of City of Phoenix design standards and guidelines, including our dedication to delivering exceptional engineering services. CK evaluated private subdivision access to an arterial street, existing intersection location and control, redesigned the recommended alternative locations, and intersection control. This project was undertaken collaboratively by the City of Phoenix and the Town of Paradise Valley to improve facilities and parking at the trailhead, mitigate traffic congestion, and enhance safety on McDonald Drive. Project design features included trailhead and parking lot redesign to increase capacity. Key study elements included using 3D rendering techniques to certify that future wall heights will not adversely impact line of sight or visual aesthetics for surrounding neighborhoods. CK evaluated how to consolidate multiple frontage accesses and residential driveways within 150 to 200 feet of each other to accomplish safer and more efficient vehicular and pedestrian circulation in the area. CK developed a comprehensive drainage study and report addressing hillside drainage issues affecting the site and prepared a MOT plan for construction on the public right-of-way. There were several Public and Stakeholder meetings organized to solicit input, as well as to keep the community informed during the project. A VISSIM model was built and used to convey final project outcome and to secure buy-in from stakeholders.
Award
ACEC Engineering Excellence 2015 Grand Award